Selina Reid – AANZPA Membership Secretary
06 January 2022
Contents
Overview
Membership Changes 01 January – 31 December 2021
Membership Statistics
AANZPA Fees
Final Fee Due Date Change
Currency
Associate Member Confirmation
Thanks
This report relates to the work of the Membership Sub-Committee, comprising Helen Phelan, Trisha Bennett, and Selina Reid (Membership Secretary), from 1 January to 31 December 2021.
Overview
Over the 2021 year the Membership Sub-Committee and Membership Administrator have engaged in the following areas: associate member applications, membership renewals & invoicing, membership enquiries, the annual currency review, template letter and website wording revisions. We have also reviewed the final payment date for membership fees.
Lynne Havenaar has continued her capable work as Membership Administrator, with Simon Gurnsey providing support and expertise as we continue to document and refine membership processes. Our heartfelt thank you to both Lynne and Simon.
In October the committee was thrilled to be joined by Trisha Bennett – an Otago-based ordinary member. Welcome, Trisha.
The areas reported below include: AANZPA member and affiliate changes for the 2021 year; AANZPA member and affiliate statistics; fee changes for the 2022 – 2023 year; comments on AANZPA's currency review process; and confirmation of associate membership process.
Membership Changes 01 January – 31 December 2021
Since 1 January 2021, we have welcomed 9 new associate members and farewelled 18 people from AANZPA. The membership changes are listed below, with 2020 figures in brackets.
New Associate Members 9 (6)
Irina Kulakova  – ACT
Janet Allen – Canterbury
Nigel Jones – Northern
Hannah Wright – VIC
David Conradson – Canterbury
Ruth Gregory – Northern
John Gregson – Central
Rose Williams – WA
Mark Powell – NSW
New Ordinary Members 0 (0)
Ordinary Members Transferred to Non-Practicing 1 (3)
Ordinary to Distinguished 1 (0)
Affiliate Transferred to Associate Member 2 (1)
Belinda Simcox – Northern
Jacqui Gough – Central
Associate Member Transferred to Affiliate 7 (11)
Rochelle Gates – Northern
Jessica Howard – Northern
Ottolien De La Rey – Northern
Uli Frank – Canterbury
Patricia Machalka – WA
Saaskia Dickson – VIC
Lee Palmer – VIC
Resigned, Lapsed Membership or Deceased 18 (14)
Linda Hartley-Clark – Victoria
Christine Turton – Central
Janine Cahill – QLD
Stephen Harrison – Central
Ottolien De La Ray – Northern
Mairehe Louise Tankersley – Canterbury
Keitha Ross – Otago
Joan Daniels – Central
Chrissie Nixon – Northern
Nicole Rotaru – VIC
Jennifer Seal – SA
Rochelle Gates – Northern
Jennifer Gilligan – NSW
Lawrie McConachy – QLD
Lois Hewetson – Canterbury
Deceased
Robert Crawford – Canterbury
Tom Wilson – WA
Annette Currie – Canterbury
Membership Statistics
As of 30 December 2021, we have 231 members comprising 10 distinguished, 81 ordinary, 5 non-practising and 97 associate members, 32 affiliates and 6 people on the President's Mailing List. See figures 1 – 5 below for a breakdown of the membership distribution by region, category, country and year.
Figure 1: Diversity of membership across regions.
AANZPA: 2021 Category/Region Table
Region
Distinguished
Ordinary
Non practicing
Associate
Affiliate
President's Mailing List
Grand Total
ACT
1
2
5
8
Canterbury
1
7
14
3
25
Central
1
12
2
22
6
43
International
2
1
1
4
8
Northern
1
18
1
13
7
40
NSW
10
10
6
26
Otago
4
5
3
12
QLD
1
6
10
1
18
SA
2
1
6
9
VIC
4
15
1
9
5
1
35
WA
1
3
2
1
7
Grand Total
10
81
5
97
32
6
231
Figure 2: Membership numbers by country – 52% Aotearoa New Zealand and 44.5% Australia.
AANZPA 2021: Country table
Country
Count
%
Aotearoa
120
51.95%
Australia
103
44.59%
France
1
0.43%
Holland
1
0.43%
Japan
3
1.30%
Spain
1
0.43%
UK
1
0.43%
USA
1
0.43%
Grand Total
231
100.00%
Figure 3: Membership by category – 41.56% ordinary (including distinguished and non-practicing), 42% associate, 13.9% affiliate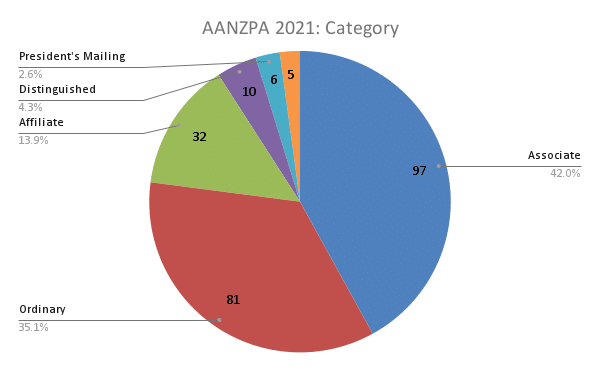 Figure 4: Practicing ordinary members and associate percentages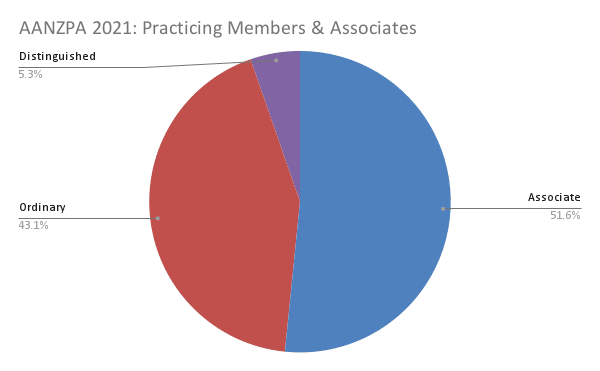 Figure 5: Member and affiliate numbers from 2008 to 2021 – showing ordinary member numbers as relatively stable and a decline in overall numbers by 13% (34). 9% of the 13% fall in overall numbers has been since 2018.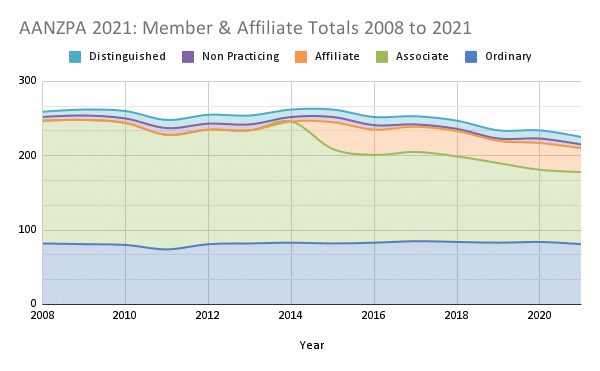 AANZPA Fees
There are a number of fee and related process changes in 2022. These are listed below.
Fees for the 2022 – 2023 year are subject to a 2% increase (rounded) as cited below and are due on 31 July.
Ordinary membership $297.00 (an increase of $6.00)
Non-Practicing $86.00 (an increase of $2.00)
Associate membership $154.00 (an increase of $3.00)
Affiliate $154.00 (an increase of $3.00)
Fees can now be paid in one lump sum, or by 4 or 8 monthly automatic payments on arrangement with the membership administrator.
Ordinary members who have made a fee instalment arrangement will receive their Annual Practice Certificate once their first payment is confirmed.
Fee invoices are sent on 1 July and fall due on 31 July. From 2022, fees unpaid by 1 August will be subject to an additional $50 administration fee. A new invoice will be issued on this date.
Fee payment for ordinary members is both a confirmation of, and a requirement of, currency. From 2022 onwards, ordinary members whose fees are overdue will be considered not current.
Final Fee Due Date Change
Fee payment is a requirement of membership and contributes to member's and affiliates maintaining good standing with AANZPA.
Currently, all members are invoiced for their annual fee on 1 July, which is then due by 31 July each year. Under our current constitution, members have 1 year from the due date to pay their fees or to make an arrangement to pay in instalments.
We propose from 1 July 2022 onwards, that all members, affiliates, and people on the mailing list, will have 2 months late payment grace rather than 12 months to pay their fees after the date they fall due. If fee invoices are not paid or under an arrangement by 30 September, membership or affiliation will lapse.
There will be an additional 1-month period from 1 to 30 October for those people who are no longer members, affiliates or on the mailing list to make payment and re-join without engaging in a formal membership process.
Currency
The annual currency review commenced in August 2021 with 20 ordinary members' currency activities being reviewed by Helen Phelan and Selina Reid.
The review process ran smoothly when members' had related to AANZPA's currency requirements throughout the year. Most people had engaged in a range of professional development activities, including with AANZPA colleagues face-to-face, online and through writing. Some members had not been relating to the supervision and/or collegial requirements and subsequent conversations included an increased warm up to these areas.
Over the 2022-2023 year the membership committee is undertaking a review of AANZPA's currency processes.
At the moment we have no process for determining the currency of our practicing distinguished members except if they are selected for a currency review. From 1 July 2022 practicing distinguished members will receive an email asking them to confirm their currency prior to receiving their Annual Practice Certificate. 
Associate Member Confirmation
In a similar way that we have an annual process by which ordinary practicing members confirm they have met AANZPA's currency requirements, from 2022 onwards, the Membership Administrator will contact associate members in February to confirm they have a current training agreement with an AANZPA accredited psychodrama training institute or campus. This will then be confirmed by the relevant institute or campus.
Thank You
Our sincere thanks to all those who have supported the work of the membership committee and membership administrator over the last year.
Regards,
Selina Reid